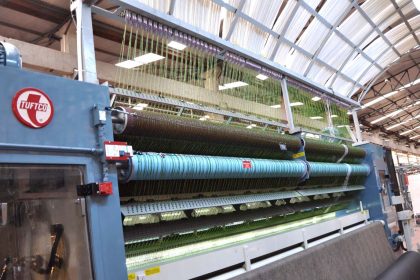 Artificial Grass factory
Artificial Grass products are made in factories at big tufting machines. Artificial Grass factories are buying PE or PP threads from outside and weawing them by  machines.  Synthetic Grass factory making a back coating at the back of artificial turf in order to make it more strong and stay well. Artificial turf factory must have a well trained staff in order to have a good quality product.If the production staff do not have capasity then the outcome will be very bad and it will affect the customers and factory reputation will go bad.  Synthetic turf factory must have a laboratory in house in order to test the products.Footbal grasses must be tested according to FIFA standarts.
These tests are colour fastness,fading,abrassion, uv lights and strenght tests .In order to have a continuous quality the grasses must be tested every month.by doing so artificial tuırf factory also called as artificial gazon can make good quality products without any problem.
Integral grass Artificial grass cost