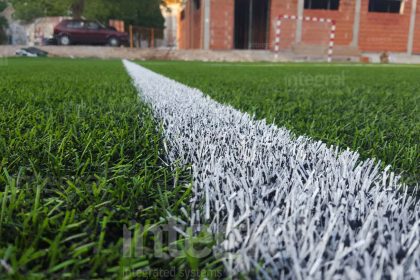 Carpets of artificial grass in Qatar
Artificial turf carpet is a leading product, it has become a desirable product and common use in all applications, sports and decorative areas, where the Integral fake turf products are unique in terms of efficiency, quality and diversity of use from the rest of all other products and have become highly regarded products having unique modern properties as a result of their integration with technology.
With its evolving properties and features, it has become a desirable product all over the world, especially in the Arabian Gulf, which is characterized by very high temperature, which was once one of the biggest problem when using synthetic grass carpets, but now it is used without any problems on grass carpets being It has become a powerful solar-resistant hybrid technology product.
Artificial grass carpets in Qatar have become a recognized product for all sports fields and facilities, it is a carpet that has proved to be efficient, it is used in the field of football, basketball, tennis courts, golf courses, rugby and many more.
The high demand for Integral fake turf carpets in the Gulf region, especially Qatar, which has temperatures up to 50 degrees Celsius came after proving the ability to resist cutting of carpet threads due to harmful sunlight that may lead to damage.
The large and modern sports facilities in Qatar require high standard products that make them an integrated facility and facilities that host global events in all fields and sports, as a result, the synthetic turf carpet is a reliable product that maintains the color of the grass and is characterized by strength and durability, competitive prices, make it an integrated product. Integral
Carpets of artificial grass in Qatar
+90 212 678 13 13
Artificial Grass Manufacturer
Do you need more Artificial turf suggestion, strategy or tips? Visit the integralgrass.com/artificial-grass-manufacturer link now and check it out!