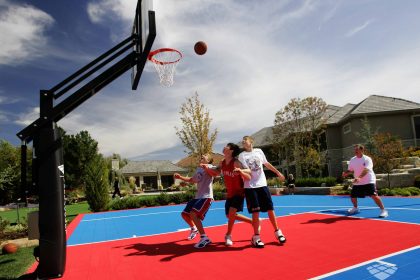 Artificial Basketball Turf
Artificial Grass products are being used in sport facilities since decades.It is used in football,rugby ,hockey,basketball and volleyball pitches. Artificial Grass ( artificiel gazon ) can be used in different areas in different weights and pile heights. Basketball game is very popular nowadays in the World and basketball courts are made in everwhere.  Artificial basketball turfs are specially made for basketball and different then football turfs .football and rugby turfs are having more heights then basketball turfs because ball performance of basketball turf is different then football or rugby turfs ( Multi Sport Grass) . Artificial basketball turfs ( artificiel gazon) no need watering or maintenance cost and because of these reasons it is selected more and more by consumers.
Synthetic Grass
Artificial basketball turfs are generally made in dark greeen colours. Artificial turf also can be used in multi purpose playing fields where basketball,voleyball and handball can be played. Synthetic turf may have different kinds of colours. FIBA approved artificial turf  must be used in the consturction of artificial basketball turf fields.
More Details;   integralgrass.com/installation/soccer-artificial-grass