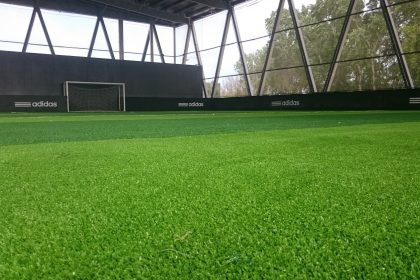 Where artificial grass is used
Often known as fake grass or artificial turf, artificial lawn grass is constructed of synthetic fibers that are devised to mimic the feel and appearance of a natural lawn
As time progresses, artificial turf develops and as it develops, it becomes more desirable to acquire it. Raw materials used in environmentally friendly manufacturing. It has multiple properties
Where it provides a long-term virtual life span of years. Our products range from fake turf to several kinds. In terms of height and density . Where they specialize in each particular use.
Artificial turf is used alternative to natural grass. It is generally used in areas where grass cannot grow, or in areas where grass maintenance is impossible or undesired. Artificial turf is used mainly in sports stadiums and arenas, but can also be found on playgrounds and in other spaces.
Artificial turf has been manufactured since the early 1960s . It is produced using manufacturing processes similar to those used in the carpet industry. Since the 1960s, the product has been improved through new designs and better materials. The newest synthetic turf products have been chemically treated to be resistant to ultraviolet rays, and the materials have been improved to be more wear-resistant, less abrasive, and, for some applications, more similar to natural grass.
The quality of the raw materials is crucial to the performance of turf systems. Almost anything used as a carpet backing has been used for the backing material, from jute to plastic to polyester. High quality artificial turf uses polyester tire cord for the backing.
And with all this Characteristics of synthetic grass. With all these characteristics of artificial turf. It is a product available for use in all settings. From football fields, golf, rugby, tennis As well as parks and gardens  Playground for children. It is a solid and safe product. Its characteristics are sustainable and long lasting.