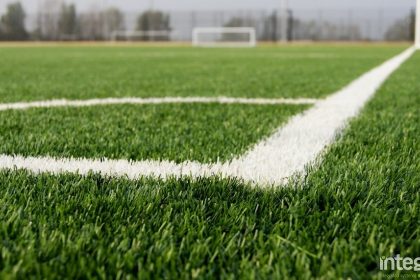 Artificial grass carpets
Natural turf is mostly preferred for the real-size football pitches. Professional football pitches are made with measures of 68m x 105m. The gaps around the pitches should also be made with the turf of the same specifications. Even more outside areas can be preferred as artificial grass carpets.
Today, natural turf application for football pitches is made in two ways;
Standard natural turf application
Hybrid turf application (turf flooring with synthetic threads)
How to Build a Turf Pitch?
Roll Turf Application;
Special seed blends are made for natural turf pitch construction in accordance with the regional climate. Once the seed mixture has been decided, turf rolls can be ordered. In this type of application, roll turfs should be laid on the ground, where drainage, irrigation and heating installations have been prepared in advance, and should be waited for a short time to make sure the turf stick to the ground.
HydroSeeding Application;
Planting HydroSeeding and special seed blend should be decided in accordance with the climate and the region and the blend should be specially made for the game pitch. A slurry mixture that contains seeds, mulch, fertilizer, adhesive and water is formed and sprayed homogeneously to the ground with strong pumps. After a regular watering for 6 months, the football pitch become lush and solid in form.
How Hybrid Turfs are Made?
The making of the hybrid turf is carried out in two stages. With the above-mentioned roll turf or Hydroseeding methods, first the natural turf carpet is made and is waited for a while to stick to the ground. Only then the second stage can be passed.
Synthetic turf
Hybrid turf pitches can be presented as the most modern football field construction method. In the second step, synthetic turf yarns are placed about 20 cm deep into the natural grass carpet with a special machine, leaving 2 -3 cm of the yarns remain outside. This is a long process carried out with fully automated machines. Football can be played immediately after the football pitch construction process is completed, but it would be better if you wait 1 or 2 months for the turf to stick to the ground. Because a much more solid ground is formed when natural grass roots are attached to artificial turf yarns.
More Details; integralgrass.com/